New technology for restoration process!
Revitalizer Dry applicable for marble, granite, terrazzo and homogenous tile.
With the action of thermal force of the polisher machine and the white-pad, the Revitalizer Dry can uniformly penetrate into the gaps of molecules and then solidify into a high-strength rigid transparent protective layer, just like form a crystal shield.
No Water-No Messy and easy to clean up
No need pre-stripping process. Very simple-improve high productivity
Less product equipment & tools required » less equipment investment
One product for all calcium base surfaces application: Marble, Terrazo, Granite, Cement Floor & Homogenous Tile
Available for neutral and black surface color
Available in two variants:
Revitalizer Dry Neutral → Colored surface than black
Revitalizer Dry Black → For black surface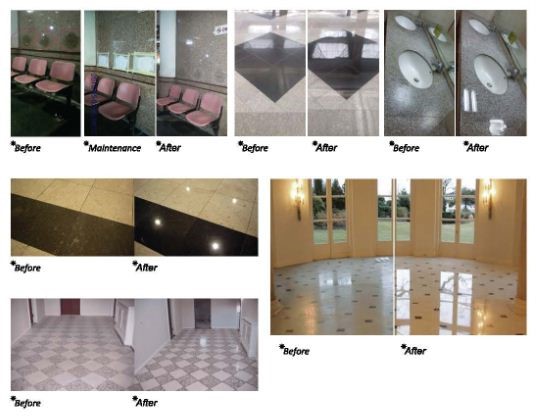 Consult iCLEAN's representative for achieving expected result.
E-Mail: customercare{@}iclean.co.id