Gastropreneurship Community is a community that was formed with the aim of becoming a gathering and sharing of experience between entrepreneurs Café and Resto in Jakarta. Every two to three months, each member gathered to discuss a variety of interesting topics to help the development of café & resto business.
Gastropreneurship Communnity Gathering held on Wednesday, February 22, 2017 at 11 am to 5 pm and located at Tawangmangu Terrace, is the second event held by this community. The event which was attended by more than 35 participants has an amazing interest. An event titled "One to Many" event, is expected to help & inspire participants, especially restaurant owners who want to duplicate their booth or restaurant. Participants are usually not only from Jakarta, but also from outside Jakarta.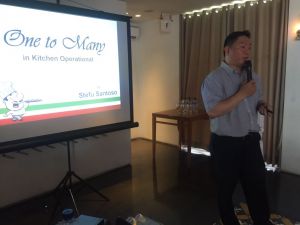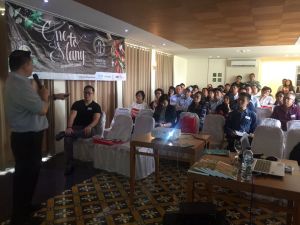 Gastropreneurship Community invites Chef Stefu who is the Executive Chef and founder of APREZ Catering (Group AMUZ GOURMET REST). Chef Stefu had been around for 30 years in the culinary world. On this occasion, he shared his experience on how to create a new restaurant & duplicate the restaurant. First of all is to determine the desired type of ownership that is an independent restaurant by opening a branch or independent restaurant without a branch or want to open a franchise. Then determine who will be the head chef, which will help maintain the quality of the food served. Next, determine whether to use a consultant or not, because the area for the kitchen should be at least 30% of the total restaurant area. Make sure to make the menu at the beginning of the plan to set up a restaurant in order to facilitate the operation of the restaurant.
The iCLEANteam represented by Paul Christi who is a trainer and Food Safety Consultant for ± 20 years said that when opening a restaurant business must build a cleanliness standard. This standard is consistent with the use of sequence of work series with food hygiene & cleanliness of place to achieve maximum result and efficient. The goal is for the restaurant can be better & always clean. Implementation of hygiene standards can eliminate a large number of hygiene issues, which are often an important factor and are noticed by visitors.
Ade as Cleaning Consultant from Cleanshop Online, agree that hygiene standards are important. Cleanshop online is an online store that provides hygiene solutions for individuals and industries. Cleanshop Mobile consists of Cleaning Consultant and Field Support to help customers directly by providing education and hygiene services
Sovi Chan through her flagship brand FOMAC & MUTU provides information about the need to establish & duplicate the restaurant. Focusing on food and beverage processing machinery, FOMAC provides kitchen supplies ranging from small scale to home appliances, small to medium-sized businesses and reaching the nationwide.
Coach Bram a bussines coach from ActionCOACH shares tips to entrepreneurs about how to run an autopilot business and duplicate a restaurant business. A business owner is a specialist & generalist who is usually tired of being an employee, having passion in the culinary world, wants to earning more money, and more. A business must have a goal set forth in the form of vision and mission. What and how the business is shaped. Coach Bram is currently coaching 30 business owners, explaining the financial factor is not less important where you should understand Avarange Check, fix cost and variable cost and have the quality to maintain the consistency of making food & the process of serving to the customer.
At the end of the event, David Handriyanto as moderator said, "In the future, the surviving company is a company that can adapt to changing times, big size does not matter that the company is the most important healthy. Adaptation to the development of that era is the key ". Gathering is expected to help food business actors share their experiences.