Daily use for hand washing. This product contains only fragrance jasmine.
DILUTION: Pure
CLEAN STEPS: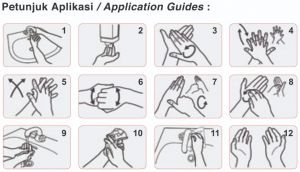 (1 – 2). Wet hands with water, apply enough soap to cover all hand surface.
(3 – 4). Rub hands palm to palm, Right palm over left dorsum with interfaced finger and vice versa.
(5 – 6). Palm to palm with finger interlaced, back of fingers to opposing palms with fingers interlocked.
(7 – 8). Rotational rubbing of left thumb clasped in the right palm and vice versa. Rorational rubbing backward and forwards with clasped fingers of right in left palm and vice versa.
(9 – 12). Rinse hands with water, dry hands thoroughly with a single use towel then use ex towel to turn of off faucet.
To achieve the expected results, please contact us via email customercare{@}iclean.co.id