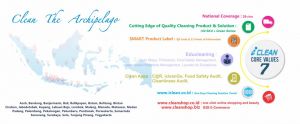 National Supply Chain
To support our grand vision "Clean the Archipelago", we have been developing supply chain network covering main cities in Indonesia. Currently we have a distribution and supply chain network in 29 cities.
Aceh – Bandung – Banjarmasin – Bali – Balikpapan – Batam – Belitung – Bintan – Cirebon – Jabodetabek – Kupang – Labuan Bajo – Lombok – Malang – Manado – Makassar – Medan – Padang – Palembang – Pekalongan – Pekanbaru – Pontianak – Purwokerto – Samarinda – Semarang – Surabaya – Solo – Tanjung Pinang – Yogyakarta
COMPLETE RANGE OF QUALITY PRODUCT (150 SKU)
We continue understanding market need on hygiene and sanitation by developing innovative and cutting edge of cleaning product technology.
During 10 years servicing our customer we have been developing 150 product SKU to fulfil our customer need of cleaning and sanitation solution in multi segment industries: Hotel, Food Service Industry (Café, Resto, Bakery, Catering), Food and Beverage Industrial, Hospital & Medicare, Personal Hygiene, Cleaning Services, and Special Industry.
ICONIC PRODUCT LABEL
We introduce new smart communicative product label with colorful iconic product application guide to enhance education process on the field.
We smartly put 21 points of information and QR Code in our product label to help our end customer understand the product function, dilution ratio, application guide safety and more.
EDUCLEANING
Part of our services, we deliver educleaning material to support all aspect of cleaning process for our customer.
We have been developing educleaning material in multiple format: Clean Steps, Think Clean.co.id, Video Clip of cleaning application, Food Safety Management, House Keeping Cleanliness Management, Launder for Excellence (Laundry Educleaning Materials). All of our educleaning material can be easily access through our website www.iclean.co.id .
C@R – WEB BASED CLEANLINESS @CTIVITY REPORT
Service excellence is just a click away! As an our commitment to continue delivering service excellent, we have been implementing web base service activity reporting which provide a real time information of cleaning and sanitation in our customer premises.
Significantly this digital service report is very helpful for improving communication in finding solutions to various problems related to daily cleanliness.
www.iclean.co.id 
One Stop of Cleaning Product & Solution, Information, Educleaning, all is just a click away.
www.cleanshop.co.id
We are introducing our online store for easy sourcing on cleaning product in every business segment.