As a step in realizing Indonesia iCLEAN clean and support the Indonesian tourism program, iCLEAN hold CLEAN CAMPAIGN EXPERIENCE 2016 only to send the photos before – after and tell about your experience with the product iCLEAN.
The measures follow the campaign:
Submit photo before – after the cleaning process displays product iCLEAN used email to icleanexperience@gmail.com .
Pe and could tell more from 1 Cleaning Experience (CE).
Complete with story experience for use product iCLEAN.
Like Facebook Fan Page iCLEAN Indonesia.
Participants download campaign conditions and form enrollment in www.iclean.co.id .
Photo with like most will into winner favorite.
Which things must be emailed to icleanexperience@gmail.com
Photos before and photo 1 after cleaning with products that participate taken a picture on display after photos.
Cleaning Experience and narrative themes a maximum of 100 words.
Form the registration filled & signed.
Copy of ID.
Campaign provisions:
participant is individual not group (can from employees of the hotel, restaurant or individual) that has use product iCLEAN and not employee iCLEAN.
Campaign material sent to icleanexperience@gmail.com no more from dated July 31, 2016 and its form registration.
Date August 5, 2016, photos best will uploaded Facebook Fan Page iCLEAN Indonesia. Photo with number like most will into champion favorite.
Announcement 3 winners The main & 1 winner favorite September 1, 2016 www.iclean.co.id
result images, themes and narrative incoming will into property Experience Clean Campaign committee of iCLEAN.
result images, themes and narratives that comes in will be testimony throughout the group website iCLEAN.
Decision committee no could be disturbed Jerk.
Committee will send e-mail notifications to CE application participants do not accordingly.
How criteria for the winners?
Participants are selected as a winner, is the participant who sends:
Photos before & after photos (with 1 product iCLEAN).
Cleaning Experience theme.
100 word narrative that describes steps cleaning and conformity between stain & products iCLEAN used.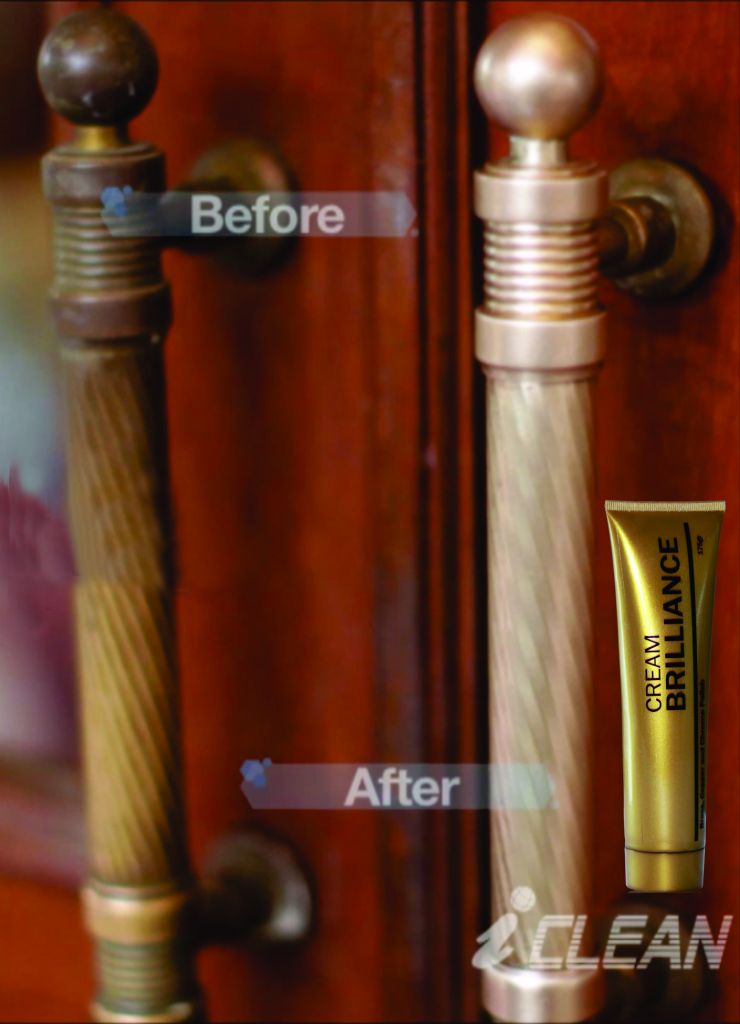 Info Photos
| | |
| --- | --- |
| Theme | Remove rust on the door handle. |
| Product Name | Cream Brilliance |
| Surface | Door handle |
| Stain | Rust |
| Tools | Hand glove & microfiber cloth |
| Clean Steps | I am using Brilliance Cream to clean the brass doorknobs and rusty. How to use easily and quickly visible changes. First of all packaging whipped Cream Brilliance, Brilliance Cream apply evenly to the door handle, aside for a moment, then rub the surface of the stain with a microfiber cloth. The basic color is exposed and the copper surface becomes shiny back. Okay deh Cream Brilliance .. !! 🙂 |
Download Formulir Clean Experience Campaign PDF Version
Download Formulir Clean Experience Campaign Word Version
Campaign Period: April 1 to July 31, 2016
Announcement of Winners: 1 September 2016