Refrigerated Storage & Frozen Storage is familiar to be heard. Both of these food storage system is always needed especially in fast food industry as well as full service restaurant.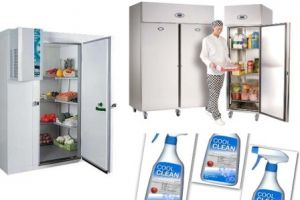 Similar but not the same in both these subfreezing environments, Refrigerated Storage at temperature of 5°C or lower can only slow the growth of microorganism. In addition to regularly monitor the temperature in the refrigerator, it is important not to place too much load, as it will prevent air circulation and makes the unit work harder. Cooked food and raw food should be separated. The same points should also be noted in Frozen Storage. However, be aware that the bacteria could still be alive again at a temperature that has been frozen.
IClean presents COOL CLEAN, designed exclusively for use once the process of cleaning and sanitation in the area walk-in coolers / freezers, upright freezers, cool / fish box, ice cream counter, refrigerator for meat and vegetable, and other cold storage areas without having to turn off the freezer so that saving time. COOL CLEANeffectively cleans dirt like frozen food stains, blood, tire marks in the freezer and frost.